SINCLAIR ZX81 ZX80 - TIMEX TS1000 TS1500 - PC8300 - LAMBDA - JUPITER ACE
ZX-TEAM-homepage www.zx81.de
---
Friday 15th until Sunday 17th of April 2011
15th ZX-TEAM-Meeting

participants of 15th ZX-Microfair



WebCam and Chat

have been acivated during the meeting!

You also can try by mail:

zx-microfair@zx81.de

(no link to reduce SPAM)

Did you miss the 14th meeting? Don't worry, we will have another meeting this year.
15th meeting 15. -17. April 2011: Every ZX81 user is invited to come to Mahlerts near Fulda, in the heart of Germany.
Please send an email to get more informations.

For all those of you, who will not be able to participate, we will activate a webcam and a chat during the meeting. Please come for a virtual visit.

---
ZX81-Forum and Web-Server
ZX-TEAM-member Thomas from Switzerland has installed a german
Forum for SINCLAIR ZX81 friends: ZX81-Forum

TS1000.US is down, but there is a new ZX80 ZX81 Forum in english language made by rwapservices

Siggis has a Web-Server running on ZX81-Hardware: ZX81 Web-Server

---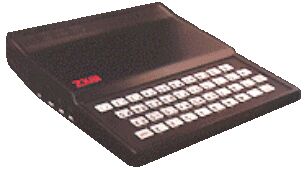 ---
New ZX81 Software from Canada:
Since March 2004 ANDRE*** is publishing a new progam nearly each month!
Fast games and impressing graphics:

Everything is written in SINCLAIR ZX81-Basic only. You won't believe it!!!.
---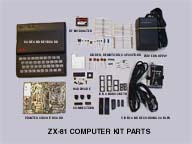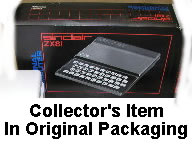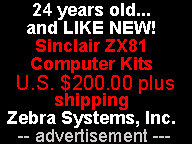 (last update: January 2011)