March 1980 - March 2001: 21 years SINCLAIR ZX80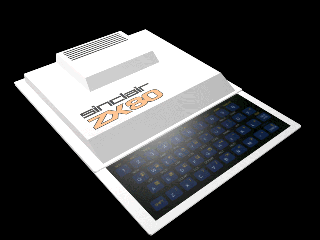 ---
ZX80 Manual online
---
In march 1980 Clive Sinclair launched his first Personal Computer ZX80 - yes, turn your ZX80 upside down and read the label! It was the first computer in the world to be sold for less than 100 UK pounds. 50 000 of them were sold in the first year worldwide.

In the 20th Anniversary Special of "Personal Computer World" (May98), I have found the following informations:
---
"1980 April issue of PCW: April was a momentous month. PCW looked at the Acorn Atom, predecessor to the BBC Micro.
But the sensation was Sinclair's ZX80 which cost just £79.95 in kit form. It had 1Kb of RAM and BASIC in 4Kb ROM and it got kids across Britain programming.
Mission impossible
In 1980 Clive Sinclair did what everyone said was impossible. With the Sinclair ZX80 he was the first man to make a computer that broke the psychological barrier of £100, finally making computing affordable for everyone who wanted to give it a go. If you were brave you could buy it in kit form for £79.95 and solder it together yourself, or you could save yourself £20 worth of heartache and get it ready-built for £99.95. It was based around an NEC Z80 processor running at 3.25 MHz, had 1Kb RAM (expandable to 16Kb), 4Kb ROM and used a TV and cassette drive to display and store programs. You could expand the memory to 16kB, but to buy the full amount would cost you £300.

It ran a form of BASIC that our first reviewer was a little scathing about:
"The software of the ZX80 comprises the BASIC interpreter, the editor and whatever else it is that does the rest of the work (Operating System seems too grand a title)", although he did go on to admit it was almost impossible to crash the system.
---
ZX80 technical data in brief
- Z80A CPU 4k ROM (2332), 1k RAM ( 2* 2114), no special chip for the logic,only TTL
- Integer BASIC, only FAST-mode
- power supply 9V DC 500mA, 3.5mm Phono plug tip positive
- software tapes not compatible with ZX81
- - changed system variables
- - ZX80 uses two bytes for integer numbers, ZX81 uses five bytes for floating point numbers
- the ZX80 ROM could be replaced by the ZX81 ROM (FAST-mode only)
- additionally a "NMI-generator" could realize the SLOW-mode
For more information please visit Grant Searle's ZX80 page
Magazines and books
- SYNTAX ZX80
Clubs
- "The National ZX80 and ZX81 users' club" (Great Britain) past perfect
- "ZX80 Club Hameln" (Germany) past perfect
- "ZX-TEAM" (Germany) still alive with Sir Clive's ZX80 and ZX81 !!!!
- "TSNUG" (northern America) still alive
SINCLAIR History: read more in the Planet Sinclair pages
SINCLAIR collector: Enrico Tedeschi's pages present all SINCLAIR products from the first transistor-radio to the latest developements.
---
Are you sad now, that you didn't get one of these nice ZX80s???

Don't worry - be happy!
Here are some solutions to help you: