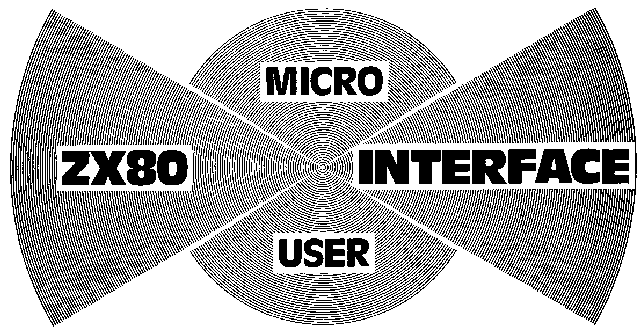 The monthly magazine published by the National ZX Users's Club for ZX80, ZX81 and ZX Spectrum
---
Interface' first issue must have been publishd in september 1980 or even earlier. It has been edited by Tim Hartnell, the club-cordinator of the National ZX Users's Club. The postal adress at that time was:
Unit3, 33 Woodthorpe Road, Ashford, Middlesex, TW15 2RP

The eldest issue I own is Vol 1 Issue 5 from January 1981.
At that time it was called ZX80 interface micro user. Remember, the ZX81 was launched in march 1981 and Spectrum in march 1982!

I don't know which issues has been the last one, I would be thankfull if you could support me with more information.

I have scanned all 15 pages of Vol1 Issue 5, so you can look through them online, or download each single page by using the right mouse button. If I get some support, I would like to publish more issues.
Scanning has been made at 150 dpi 1-bit (b/w only) with a CANON N650U scanner. All .gif-files have the width of 1241 and height of 1754 pixel.
If your screen has 800 * 600 or even less, you will extremly have to use both scrollbars ;-))
Each pages uses about 60 - 70 kBytes.

I would like to swap copies of each other issue I have for those I'm missing!
It's your choice: you can get scannned gif-files, if you send gif-files or you can get photocopies by snail-mail, if you send photocopies.

Thanks to Chris Denham, who has sent scans of Vol1 issue 3 and 4, I will upload these mags later.

Thanks to the support of Chris Millet you can read interface vol2 issue 9 on his website.
Wanted issues:
Vol1: Issue 1, 2, 7, 8, 9, 10, 11, 12
Vol2: Issue 1, 2, 3, 4, 5, 6, 7, 8, 10, 11
Vol3: Issue 8, 9, 10, 11, 12 and following issues
I can offer:
Vol1: Issue 5 and 6
Vol2: Issue 12
Vol3: Issue 1, 2, 3, 4, 5, 6, 7
will be updated as soon as I've got "new" issues!

Please: before sending any files or letters, please e-mail!

"Sinclairly" yours

Peter
---
To let you leaf through the pages, I have used JavaScript and tested the page with Netscape 4.7 and InternetExploder 5.5.
Opera 3.6 does not work and I don't know why :-(
---