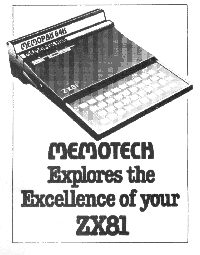 DOWNLOAD

If you do not want to read the booklets online:
here's the complete collection as memotech.zip (74.6 KB)
But my collection is not complete.
Please help me finding:


- 16K "Baseline" RAM-pack
- DIGITIZER, has it really been sold??

---
It would be very helpfull to get a copy of the missing booklets.
Please send an email, if you want to help me.
Thank you in advance.
---
Thanks to Chris Jansen who could help me with the keyboard instructions and to Rod Humphreys who send me the MEMOTEXT-instructions.
Also thanks to René Bruneau, who sent the Z80 Assembler module with instructions!! ;-))

"yours sinclairly"
Peter